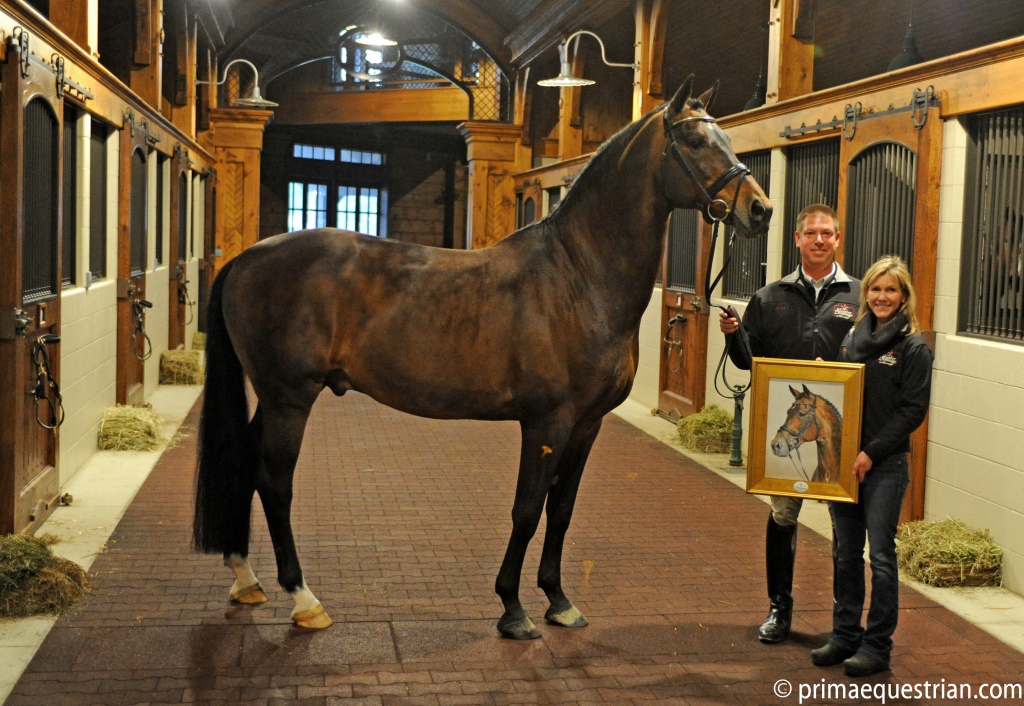 09 Feb

Harmony's Rousseau Receives Keur Predicate
Harmony's Rousseau Receives Keur Predicate
New Dressage Keur stallions:
Rousseau, Vivaldi and Johnson
Harmony's Rousseau was one of three dressage stallions to receive the Keur predicate at the recent KWPN Stallion Show. He was joined in this honor by Vivaldi and Johnson. The three stallions receive the predicate based on the good conformation they have passed on to their offspring and because of their offspring that have proven themselves in sport.
Johnson
The 14-year-old Johnson is a son of the preferent stallion Jazz out of the keur preferent prestatie sport-dres mare Roxane, a daughter of Flemmingh and bred by P. van der Vleuten from St. Oedenrode. The stallion was the champion of the 2005 KWPN Stallion Show, won European team gold and set impressive scores in the Grand Prix with Hans Peter Minderhoud this year. In Villach, Austria, he won both the Grand Prix and the Special. With three approved sons: Breezer, Bretton Woods and Firestone and two approved grandsons: Gin Tonic and Google, the stallion is remarkably successful in breeding. The majority of his oldest offspring are still competing at the international Small Tour-level, but his son Meggle's Boston is already active at Grand Prix-level. Johnson clearly stands out as an exterior-, size- and movement inheritor.
Rousseau
The 18-year-old son of Ferro was the top seller on the first KWPN Select Sale. The breeding product of J. Haak from Philippine was champion of the 2001 performance test and won the Pavo Cup as a four-year-old. He won the stallion competition 2002/2003 and in 2003 he obtained the silver medal at the World Breeding Dressage Championships for 5-year-olds in Verden. His progeny's successes have not gone unnoticed either. For three consecutive years he sired the champions of the KWPN Stallion Show: Wamberto, Blue Hors Zack and Ampère. Ampère passed the performance test by besting the top score at that time. A big ambassador for Rousseau at the international level is his son Zippo, ridden by Patrick van der Meer. More than half of his daughters presented at the keuring have been rewarded with the ster predicate, thereby clearly proving Rousseau's qualities as a sire.
Vivaldi
The chestnut-son of Krack C out of the ster preferent prestatie mare Renate-Utopia is bred by Antoon Versantvoort from Sint Oedenrode. The stallion stood out during the stallion show and quickly gathered a large fan base. As a five-year-old he won the Pavo Cup and was successfully ridden in the Small Tour. The stallion is very popular in breeding and won the VHO Trofee three years in a row. Vivaldi breeds extraordinarily and sired no less than 6 approved stallions, all successful in competitions for young horses: Desperado, Dream Boy, Expression, Eye Catcher, Ferdinand and Geniaal. Vivaldi strongly improves exterior and movement.
During the KWPN Stallion Show, powered by Massey Ferguson, the three brand-new keur stallions were represented by a few of their finest progeny.